Can You Dye Your Extensions?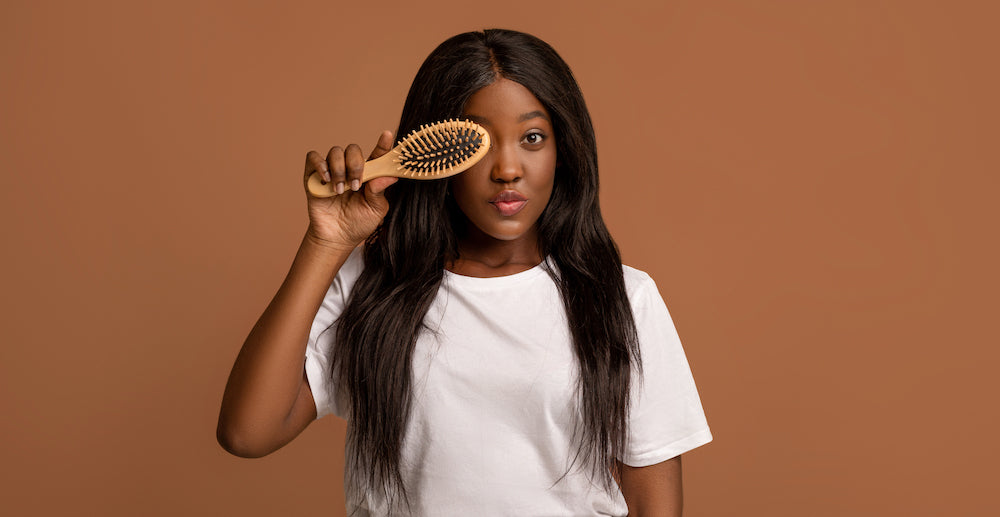 Hair extensions can transform the look of your hair and give you the opportunity to try out new hairstyles. But some people might be wondering if you can dye your extensions. The answer is yes, but
only if they are human hair extensions
.
Synthetic hair extensions are not able to be colored. However, human hair extensions can be colored, the same way normal hair is. Still, it is not advised to lighten dark hair extensions. You should only maintain the same color or go a couple of shades darker.
You Can Darken But Not Lighten
Yes, hair extensions can be colored. But more specifically, they can be darkened but it is very unlikely you'll be able to lighten them. The process of lightening them would require bleach, which is typically too much for extensions to handle. You may be able to lighten them a shade or two, but anything more than that will likely damage them beyond repair.
Coloring your hair extensions darker is much more straightforward than lightening them. Still, there are certain things that you should keep in mind when dying your extensions. Most extensions will grab the color faster than your natural hair. So, the color may need to be left on for a shorter period of time.
Coloring Your Hair Extensions
In short, you can do anything with human hair extensions that you would do to your natural hair. Dying, cutting, heat styling, and even chemically processing are all possible. In fact, dying your extensions is very common to make sure it matches the color of your natural hair color for the most seamless appearance possible. There are a few things you should keep in mind before coloring your hair extensions.
Do a Strand Test
Before you commit to dying the entire weft of extensions, begin by testing a small area. You want to fully understand how they will handle the coloring process. Mix the dye as normal and apply it to one small strand or section of the hair. Make sure to take note of the end result before you continue dying the rest of the hair.
Virgin Hair is the Best For Dying
Virgin extensions have not been chemically processed in any way. This means that they can be dyed with minimal damage to the hair. Non-virgin hair has already been chemically treated, so the strands have been stripped to their weakest point already. Because of this, they are not strong enough to handle the dying process.
Dye Before Application
It is possible to color hair extensions after they have been applied, but it is easier to do before that. As mentioned earlier, extensions tend to take on color more quickly than your natural hair. If you apply hair dye to your own hair at the same time as the extensions, your extensions could process way more quickly. This may lead you to end up with a patchy look.
Maintain a Moisturizing Schedule
Just like with your natural hair, extensions that are color-treated will need extra attention to make sure they stay moisturized. After you first color them, you should deep condition them to make sure that any lost moisture is added back into the hair. Then, you should continue deep conditioning the extensions at least once a week to keep the extensions looking shiny, healthy, and free of split ends. You can also add additional products to your hair care routine like argan oil, coconut oil, and castor oil for even more moisture.
Hair Extension Tips
Caring for your hair extensions
may take a little bit more effort than your natural hair. Particularly if you have dyed your extensions, make sure you follow these hair extension tips.
First, when shampooing and conditioning, go in a top to bottom motion instead of crunching up at the scalp.
To dry your hair extensions, squeeze and pat. Do not rub the wet hair with a towel! One of the best ways to dry extensions is to place the hair on a towel in a warm place. When the hair is almost dry, comb through it, starting at the ends. If needed, you can finish with a hairdryer, but you should blow downwards from root to tip.
Limit how often you use heat to style your hair. Definitely blow dry your hair using your fingers rather than a brush. Using a brush tugs at the extensions and can loosen them, which is why using your fingers or a wide-tooth comb is best.
Try not to overwash them. Washing the extensions too much can strip the hair of its oils and cause the hair color to fade faster than you expected. Also, keep in mind that lighter colors will generally wash out a lot quicker than darker colors.
Other Hair Extension Questions
In addition to wondering if you can dye your extensions, there are many other hair extension questions you may have. Here we will answer some of the most common questions.
Will Extensions Damage My Natural Hair?
Generally speaking, the answer is no. As long as they are applied by professionals and you care for them properly, you should not have any damage to your natural hair. If you follow the tips above, your natural hair should be no worse off than it was before the extensions were applied.
How Long Will the Extensions Last?
How long you can expect your hair extensions to last depends on a few factors. How well you care for them as well as what type of extensions they are the most important factors. Clip-in extensions will typically last 3-6 months, but can even last up to a year with excellent care. Meanwhile, tape-ins will usually last between 4-8 weeks before they need to be re-applied. Halo extensions may last anywhere from 6-12 months. Make sure you ask your stylist for specifics, so you know what you can expect.
How Do I Remove Extensions?
Proper removal of your extensions is just as important as the application and care of them. You need to be very careful when removing them to avoid damaging your natural hair. If your extensions are permanent or semi-permanent, it is best to have an experienced hair stylist remove them.

Snapped Hair
If you would like to make an appointment or are interested in learning more about the variety of hair extensions we have available, reach out today and make an appointment at our Merrillville, IN location. We offer premier hair services to all in the Northwest Indiana area. We are now also offering payment via Shop Pay or Sezzle so that you can split up your payments to make it more affordable!