How Long Do Hair Extensions Last?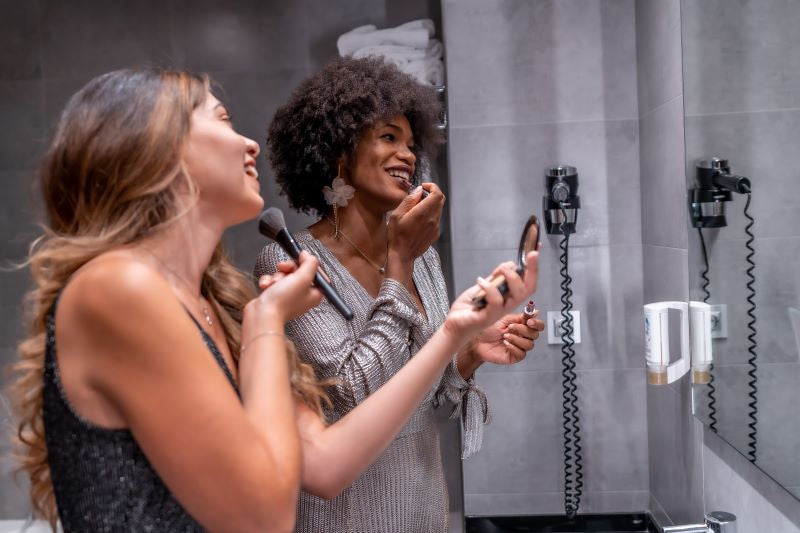 With quality, attuned hair products and accessories, your entire look can change in an instant. There are also so many products and accessories out there to discover and try for yourself. If you have never used a hair product like extensions before, you may be wondering about some of the details, including the lasting time, what the process of putting in extensions is like, the permanency, and the effects extensions can have on your natural hair. In this article, we'll discuss how long hair extensions last, how extensions work, whether they are or can be permanent, and what hair is like after extension removal. 
How Do Hair Extensions Work? 
Hair extensions have become one of the best ways to add luscious volume and length to natural hair. They have grown in popularity by providing more style and appearance possibilities, as well as improving and hiding levels of hair damage, including damage from heat styling and coloring. The US is currently the largest importer of human hair, with imports of hair extensions up by 66.21% in 2022. However, with a continued surge in popularity, there has also been misleading information from some companies toward consumers seeking high-quality hair extensions.
When looking for quality extensions, it's important to know more about how they work first. You want hair that has a high grade of quality and matches your natural hair's texture. You also want to consider the hair extension application method that works best for your lifestyle. Some of the most common extension types include sew-in, tape-in, and clip-in hair extensions.
Sew-in Hair Extensions 
An older method of putting in semi-permanent hair extensions is sewing wefts of hair to micro braids. Most often applied to natural hair untouched by chemical relaxers, it is still possible to sew hair extensions into straighter, finer hair. 
Tape-in Hair Extensions 
The tape-in method is among the newer types of semi-permanent hair extensions, and many stylists prefer it to other methods. With a tape-in extension, two relatively thin layers of wefts surround your natural hair strands, then heat-sealed to bond. You cannot wash the hair for approximately 3 days afterward to secure the bond. 
Clip-in Hair Extensions
Amongst the easiest to apply and remove, clip-in hair extensions are ideal for someone who likes to frequently change up their look day-to-day. You can go from voluminous waves to a gorgeous bob in minutes or add some wefts of colored clip-ins in for a more fun, varied look.
How Long Do Extensions Last?
The length of time your hair extensions will last depends largely on certain factors, including the type of extensions you choose. The material used to make your extensions is one of the most impactful factors on longevity. Human hair vs. synthetic extensions is one of the first choices you'll need to make. Synthetic is usually less expensive but lasts a shorter time than many human hair options, but there are different options for higher-quality synthetic extensions that can extend the lasting time. However, human hair extensions are better for value and quality.
Less processed, higher-quality, and higher-grade human hair extensions are a better value. These extensions can last longer and endure curling, dying, and bleaching better. You can enjoy more silky soft, realistic-looking extensions, with some lasting up to 5 sew-ins or installs, with no tangling or shedding. Maintenance also makes a difference in the lasting time of your extensions. Aspects such as using shampoo and conditioner that are extensions-safe, brushing the extensions regularly, and taking special care as you are styling all go a long way toward maintaining and extending lasting times and decreasing any negative effects on your natural hair.
Are Hair Extensions Permanent?
While clip-ins are a highly popular type of extension, they are less permanent and can take more time to put in and take out each time you want to use them. For a top way to keep your extension input, removal, and daily beauty routine times low, there are so-called permanent hair extensions. Extensions referred to as permanent are those that can stay in continuously for several months, including with regular washes. Some will need replacement about every 4-6 months, while others are reusable with salon maintenance. There are four types of these hair extensions out right now, with their own requirements.
The decision on which of the four semi-permanent extensions you want to go with depends largely on the problem you are wishing to solve. Are you looking for thickness or added length? Are you going for a more natural look or do you want to add color? Another factor to consider is your hair washing routine. Do you wash your hair once daily or once a week? Do you let your hair air dry or use heat to dry and style? Tape-in extensions last about 4-6 weeks. K-tips, or keratin tips, can last up to 6 months and aren't reusable. I-tips last about 4-6 weeks and are reusable for up to 10 months. Sew-ins can last around 4 months depending on maintenance.
Hair After Extensions Removed
One of the biggest concerns about hair extensions is what extensions do to your natural hair as you wear them and how hair is after extension removal. Many worry if extensions can damage their natural hair. Hair with any previous damage due to a bad haircut or bad extensions may be more vulnerable or sensitive, but it's worth knowing that hair extensions do no damage to your natural hair inherently. Bonding and tape-ins may prevent growth and damage your hair, but the Brazilian extensions from Northwest Indiana's own Snapped Hair can be put in and removed without damaging hair.
Quality Hair Extensions That Last
High-quality hair extensions can add impactful length and volume for even more beauty and variation to your current look. For all the style benefits and high quality of a company with value and satisfaction as the top priorities, pop into Snapped Hair in Merrillville, IN, or check out the website for quality, lasting extensions today.